Report Objective
Engineering has always been a field of great demand, attracting students (especially GenZ) from various academic backgrounds. However, in recent times, there has been a remarkable upswing in the number of students enrolling in engineering programs worldwide. This phenomenon has prompted us at iamneo to delve into the underlying causes of this trend and its possible implications for the future of the engineering profession.
This trend carries significant implications for the future of the engineering profession. Therefore, it is crucial to comprehend the driving forces behind this trend and explore the potential challenges and benefits it presents.
So, is the rush real?
Dive deep to unravel the truth!
Rushing Engineer's Effect
It's evident that India is known for producing a large number of engineers every year. We see a whopping increase in the numbers, which indicates the growing popularity of engineering courses among Gen Z students. So, in order to analyse the significant reasons behind the upswing, we at iamneo conducted a series of research and analysis to propose an effect that holds the root for this massive upswing.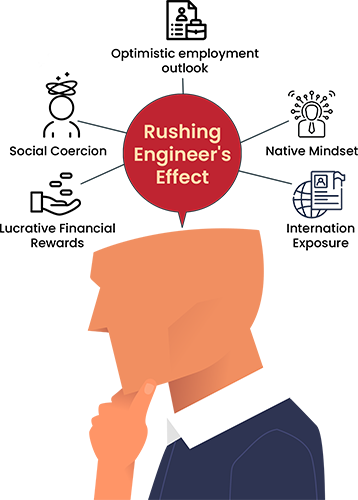 The Gen Z Mindset – Points to Ponder
Gen Zers are more demanding and expect better education and career paths, hence it's evident that these students – when entering the workforce expect nothing short of a better work environment. Their demand for better opportunities and growth will not curtail – in fact; it will further ameliorate when they kickstart their careers – As their primary focus while joining the engineering stream was to "build a solid career". Hence, it's important that the L&D teams should be well-positioned to satisfy the demands of the Gen Zers and offer them ample skill enhancement plans to attract and retain this group of employees.